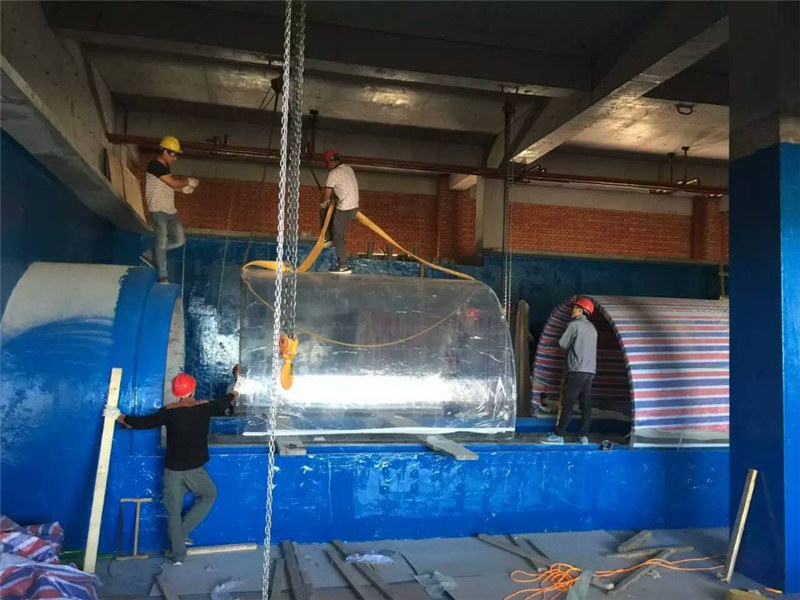 Quick Details
Type:Aquariums & Accessories
Material:Glass
Volume:5l
Aquarium & Accessory Type:Aquariums
Feature:Eco-Friendly
Place of Origin:Shanghai, China (Mainland)
Brand Name:Zunhai
Model Number:Acrylic Tunnel
Color:Transparent/Brilliant/Bright or Customized
Diaphaneity:more than 95%
Plasticity:Strong
Insulation:Excellent
Materials:Acrylic
Thickness:1.5mm to 50mm or Customized
Size:Customized
Logo:Customized
Resistant:Excellent resistance to weather
Density:1.19-1.20kg/cm3
Specification
PMMA Material: 100% virgin;
Thickness: 20mm-500mm;
Color: Transparent;
Shape: Cylindrical, rectangular, L shape, triumphal, emarginated and combinations of these;
Packing: PE film masking on both sides, multilayer KT board and angle iron;
Terms of payment: 40% as advance payment by T/T after sign contract, 60% by T/T before delivery.
The Advantages of Transparent acrylic aquarium tunnel
1,We can satisfy any requirement for customers;
2,It is clear with high diaphaneity and translucency;
3,It is easy to maintain clean with soap and soft cloth;
4,Good insulation for all electrical equipment;
5,It can bear large water pressure;
6,Non-toxic to human.
7.Light self-weight is only half weighted compared to the ordinary glass
8.Strong plasticity it can be easily shaped and processed.
Acrylic poly Tunnel for oceanarium project
Zunhai plexiglass had finished more than ten tunnels in domestic and abroad ,Including 90. 180°and 270°.Tourists feel as they were right on the scene with Multi-Angles.
Features
1.Color is transparent (clear) and high brightness
2.Strong plasticity can be easily shaped and processed
3.High resistance of pressure and strong shock resistance (16 times as strong as ordinary glass)
4.Easy to maintain and clean . It can be scrubbed with soap and soft cloth
5.UV resistance
Besides acrylic tunnel.Our factory is professional in undertaking the following project :
1.Oceanarium project
2.Super Large Ecological Aesthetic Aquarium Project
3.Swimming Pool Project
4.Underwaterlandscaping project
5.Waterscape restaurant project
6.Waterscape hotel project
7.Super big window project