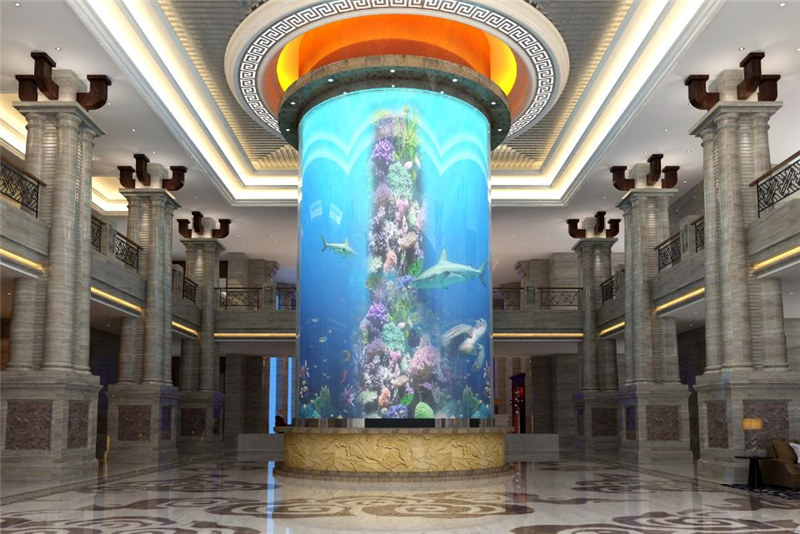 Features
1.Acrylic is stronger than glass .Softer than glass and more flexible than glass .Making it far more impact resistance and not nearly as prone to chip or crack as glass .
2.Acrylic weights 50% less than glass making it for more manageable to move .
3.Acrylic insulates 20% better than glass reducing temperature flax and saving on heating bills .
4.Easy to maintain and clean .It can be scrubbed with soap and soft cloths.
5.UV resistance.
Quick Details
Type:Aquariums & Accessories
Aquarium & Accessory Type:Aquariums
Feature:Eco-Friendly
Place of Origin:Shanghai, China (Mainland)
Brand Name:Zunhai
Model Number:Custom
Color:Clear and Transparent and high brightness
Material:PMMA 100% imported
Quality:Good
Diaphaneity:More than 95%
Plasticity:Strong
Insulation:Excellent
Certificate 1:ISO 9001
Certificate 2:CNASL 1049
Style:big cylinder acrylic fish tank
Harm:No harm to human
Why choose us products
1.Providing onsite installation including waterproofing and sealing.
2.Worldwide Shipping .
3.Polishing and cleaning .
4.After scratch can be repaired .
Overseas Oceanarium Projects
| | | |
| --- | --- | --- |
| No. | Name of Projects | Year of Construct |
| 1 | Philippines Underwater World | Dec. 2008 |
| 2 | Vietnam Oceanarium | Oct.2007 |
| 3 | Turkey Oceanarium (Istanbul) | Mar. 2009 |
| 4 | Philippines Underwater World | Feb.2009 |
Domestic Oceanarium Projects
| | | |
| --- | --- | --- |
| NO. | Name of Project | Year of Construct |
| 1 | Hangzhou Xiaoshan Polar Undersea World | Jul.2008 |
| 2 | Hefei andover oceanarium | May.2008 |
| 3 | Yiwu Underwater World | Nov.2007 |
| 4 | Nantong Oceanarium | Juy.2007 |
| 5 | Wuxi Oceanarium | May.2006 |
| 6 | Ningbo Oceanarium | Sep.2005 |
| 7 | Shenyang Oceanarium | Apr.2005 |
| 8 | Wulumuqi Oceanarium | Nov.2008 |