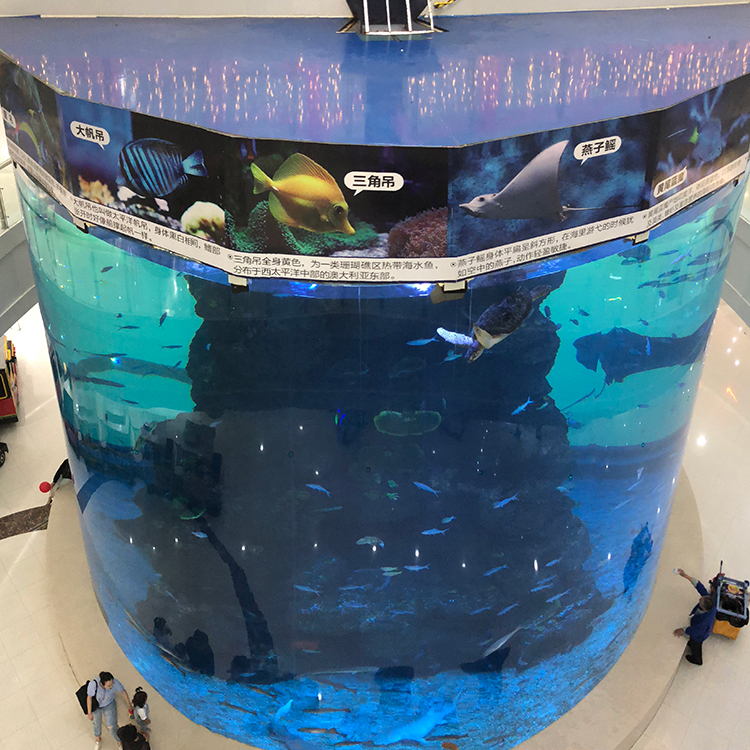 The size of this above tank is 9m length*1m width*2.2m height, the thickness of acrylic sheets is 90mm. This is in Dongguan China.
Our products have some advantages as following:
1. Better diaphaneity. It may be reach above 95% which has a clear quality equal to crystal(The scenery inside the aquarium tank may look smaller.)
2. The surface of our products is smooth.
3.It has fine property of weather resisitance as well as acid and alkali resistance;
4.Strong plasticity it can be easily shaped and processed;
5.Light self-weight , and can be convenient to transport;
6.All kinds of acrylic products, the size is designed by customer.
Besides acrylic sheet, we are pressional in undertaking the following project:
swimming pool project, oceanarium project, waterscape restaurant project, waterscape hotel project, underwater landscaping project, super big window project and super large ecological aesthetic aquarium project.
Points for attention
1. Acrylic sheets and other organic solvent can't put in a place , moreover can't contact with organic solvent;
2. During the transportation of surface protective film or not will protect paper chafes;
3. Can't use in temperature over 85 ° C environment;
4. Clean the acrylic sheet with 1% just by the soap water, with soft cotton cloth with soap water, not with good thing or dry brush, or surface is easy to scratch
5. Acrylic sheet has a high heat exchanger and expansion coefficient, because of the temperature change please consider obligate telescopic gap.
Acrylic procucts has becoming essential leisure place of luxury hotels in recent years. Our products are exported to more than 10 countries, such as Germany, America, Spain, Poland, UAE, Singapore, Malaysia, Turkey, Thailand, Vietnam, Korea, Japan and so on.
Quick Details
Type:Aquariums & Accessories
Aquarium & Accessory Type:Aquariums
Feature:Eco-Friendly
Place of Origin:Shanghai, China (Mainland)
Brand Name:Zunhai Plexiglass
Model Number:various choice/customized
Color:transparent/clear
Property:strong plasticity and strong shock resistance
Size:9m length*1m width*2.2m height
Diaphanity:more than 95%
Certificate1:CE
Certificate 2:ISO 9001
Harm:no harm to human
Smell:tasteless
Insulation:excellent
Raw material:100% imported PMMA